2020 Dietitian Side Hustle Income Report
2020… whew! What a year. It has been full of ups and downs. But it's over. And now is the time I reflect back on the financial success of my dietitian side hustle.
2020 Dietitian Side Hustle Income Goals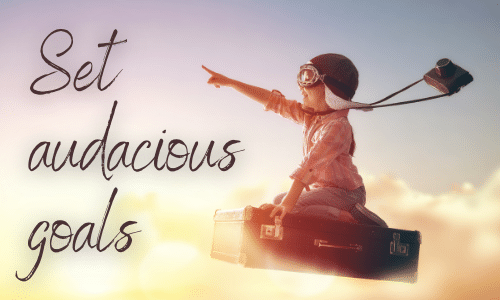 My income goal for 2020 was $25,000. I will tell you when I set that goal it seemed so crazy. For reference, I made approximately $7,500 in 2019. So, increasing my goal by over 3x felt pretty audacious.
But if you know me, I really like audacious goals.
And a lot of things changed from 2019 to 2020. The biggest has been my mindset. Not only in what I think is possible, but in how I use my money. As you'll see in this income report, I invested a LOT of money into my business.
I realized that in order to make money, I needed to spend money. I invested in several high-end business coaching programs which were 1000% worth it. And I wouldn't be here today had I not invested in myself and my business.
2020 Actual Income
So how much did I make?? My goal was to bring in $25,000 in 2020 and I ended up bringing in…. drum roll…
$33,581.45 (~33% higher than my goal!!)
Where did this money come from?? Let me break it down:
Writing:$3,200 (9.53%)
Webinars:$2,468.70 (7.35%)
Digital Goods:$401.13 (1.2%)
Affiliate Sales:$13,673.04 (40.72%)
Work with Brand(s):$8,531.15 (25.40%)
E-Books:$2,215.47 (6.60%)
Coaching:$2,331.21 (6.94%)
Course:$760.75 (2.27%)
Income Breakdown
Let me breakdown a little bit of my income under each category.
Writing: I updated a continuing education course and created a new course. I also had an ongoing contract through UpWork for creating blog articles. This income is not passive and takes a lot of work.
Webinars: I made over $1,500 from 4 live webinars and over $900 for on-demand webinars (passive income).
Digital Goods: I sold digital goods on RD2RD. While I don't make a ton of money here, this income is entirely passive.
Affiliate Sales: I made affiliate sales for 3 different companies. This year I launched my own course called the Blogging Accelerator Program. It used my affiliate for The Unconventional RD courses. When people bought through my link, they received my program at no additional cost.
Work with Brand(s):This is all over the place, but I had a big $6,000 contract for doing 2 webinars and a series of mini practice papers. I also wrote articles and made presentations for other brands. And I had 3 interviews with marketing agencies as an expert in geriatrics.
E-Books: I created 2 e-cookbooks and 1 e-book. While they took time to create, the income I make off these is now entirely passive.
Coaching: I have worked with several individual coaching clients this year, though I ended up working with many in my group program (listed under affiliate sales). Because my time is limited, I keep my individual coaching clients to a minimum.
Course: This is from my Beyond the 9 to 5 Coaching course! Individuals in my group program (23) also get access to this program.
This was the cliff notes version, but I hope it's helpful to see!
Remember, This is Just my Side Hustle
Keep in mind that I work a full-time job. This year my side hustle brought in approximately 25% of TOTAL my income (full time job + side gigs). I haven't done a good job tracking the time I spend on my side gigs this year… but it is definitely less than 8 hours per week.


2020 Income vs. 2019 Income
For kicks let's compare 2019 to 2020 so you can see how my income sources shifted. The biggest shift is that I am doing less work for other people and more work for my own brand.
| | | | | |
| --- | --- | --- | --- | --- |
| Income Source | 2019 $ Made | % Income | 2020 $ Made | % Income |
| Writing | $3,885.00 | 50.7% | $3,200.00 | 7.53% |
| Webinars | $3,471.50 | 45.3% | $2,468.70 | 9.53% |
| Work with Brands | $250.00 | 3.3% | $8,531.15 | 25.40% |
| Digital Goods | $59.14 | 0.7% | $401.13 | 1.2% |
| Affiliate Sales | | | $13,673.04 | 40.72% |
| e-Books | | | $2,215.47 | 6.6% |
| Coaching | | | $2,331.21 | 6.94% |
| Course | | | $760.75 | 2.27% |
| Total | $7,665.00 |   | $33,581.45  |   |
In 2019 my biggest income source was freelance writing followed by webinars. In 2020 my biggest income source was affiliate sales followed by work with brands. This is a result of shifting my mindset and focus from creating content for others to creating content for my own brand.
2020 Actual Expenses
We'd be remiss to talk about income without talking about expenses. It costs money to run a profitable business. And this year I spend more in my business than I made in 2019. Which is crazy! But I'm so proud I did.
In 2020 I ended up spending… drum roll…
$15,679.12
 For reference, I spend $1,333.84 on my business in 2019.
Where I was I spending my money? Let's break this down too:
Professional Development: $10,284.50 (66%)
Podcast: $84 (1%)
Website: $2,153.80 (14%)
Supplies: $458.48 (3%)
Resources: $1,072.13 (7%)
Other: $1,626.21 (10%)
Did you guys see how much I spent in Professional Development?! More than I made in 2019. But you guys, I've learned legit business skills and radically transformed my mindset. Just wait to you read my 2021 goals.
Expense Breakdown
Let me breakdown a little bit of my expenses under each category.
Professional Development: I invested in five different business coaching programs from two different individuals. The most expensive program was over $3,500. And worth every penny.
Podcast: I don't spend much to run my podcast- just $7 per month for podcast hosting fees through Libsyn.
Website: This year I did by the Pro version of a website theme I had been using for free. I paid $239.40 for website hosting fees. And I bought a lifetime software package for a company called Groove Funnels.
Supplies: I purchased checks, planners, a new router, office chair, and a big old white board for planning out the future of my business.
Resources: This category includes my expenses for my keyword research tool (for blogging), Canva Pro membership, Pinterest scheduling tool, Google Drive storage, my Zoom plan, and video editing software.
Other: This is a catch-all category. It included money I spent working with an attorney to start up my biz (and help with contracts), liability insurance, a stab at Facebook & Pinterest ads, hosting for my e-books, and my LLC annual fees.


Let's Talk About that $10,000 for Professional Development
Before I move on, I do want to address how much I spent on my business… particularly that $10,000+ I spend on professional development!
I hope this perspective helps those who may be reading this but struggling with seeing themselves doing something similar.
We Spent a lot to Become Dietitians
Here's the thing guys, how much money did you spend to go to school to be a dietitian?
You invested in school because you knew you would have a serious return on investment. Sure, it would take time to pay back your debt, but it was worth it. Without your RD credential you probably wouldn't have your job (and certainly not your nutrition credibility).
Investment vs. Expense
When you invest in your side hustle, it is just that- an investment and not money you'll never see again. It's not like buying a fancy purse (Coach is my jam) where you know you will never see that money again. It's like school. You invest the money because you know you are going to make that money back and then SO much more.
This is what sets apart an investment from a plain old expense. You'll be getting the money back and then some (assuming you do the work and invest wisely).
Here's an Example
For example, this year I spent $1,000 to work with an amazing biz coach (they were just launching so their prices were still super low). And I made $10,000 as a result of working with this individual. In fours months. With two program launches. And I will continue to be making money in 2021 through payment plans for this particular program.
In total I will have made $15,000 following my work with this business coach. And remember, I only spent $1,000 to work with them. By choosing to work with my biz coach I actually made a profit of $14,000. So worth the $1,000!
It's OK if You Aren't There Yet
I know it's hard to invest when you don't have the capital up front… but you do need to make a decision. Do you want to get there the fast way or the slow way. Investing will get you there faster (as long as you are strategic and do the work!).
But it's still 100% OK if you aren't ready to invest in your side hustle. There is still plenty of money to be made!
Just keep in mind as you start to make money… at some point consider investing some. Use that money to make money!
What Did I Net?
So you can the math, or I can do it for you. I made $33,581.45 and I spent $15,679.12. This gives me a net of… drum roll…
$17,902.33
And in case you are wondering… Yes, I will have to pay taxes on this number. This year I became an official business and my account helped me to figure out quarterly taxes to federal and state.
Whether you have a side hustle or a traditional job… we all pay taxes.
What Does 2021 Hold??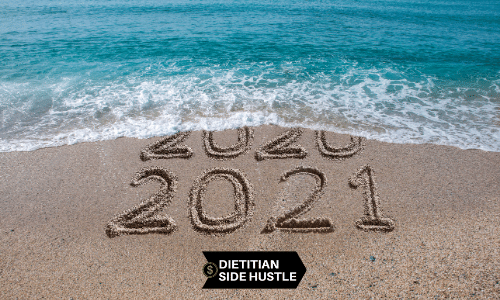 Ooooh, you guys. I'm still pushing myself outside of my comfort zone.
Initially my goal for 2021 was to make $5,000 per month in my side hustle. I mean, $60,000 is over double what I made in 2020. And that's a lot of side cash.
But when I started setting my goals, I realized I was dreaming to small. Too small for the place I'm currently at in my business. And for where I know I can go.
So, I changed my goals. My goal for 2021 is to make $100,000 in my side hustle.
Gulp. Yep, I said it. I want to match what I make in my full time job through my side hustle. And I'm not doing this my working a ton. In fact, my goal is to work less.
But I'm using my money to make money. I'm going to continue to invest in my business and be intentional and strategic as I move into 2021.
This goal feels so audacious. But I've got a plan. Tune in this time next year to see how it all comes together!!
Outside of this income goal, other goals I have including:
Bringing back a program I launched over the summer called The Geriatric Dietitian Volunteer Program.
Hiring my first virtual assistant to run my new food blog!
Offer a scholarship for students wanting to pursue geriatrics.
Help 100 dietitians start their own blogs
Increase the traffic to The Geriatric Dietitian
Qualify for Mediavine on my new food blog High Calorie Recipes.
Tune in this time next year to see how it goes down! 😉
Your Action Items
As I said last year, I hope you feel inspired and have a better understanding of the financial picture of one dietitian side hustler. I don't know about you guys, I'm just getting started. There are so many opportunities for dietitians. The sky is literally the limit.
Here are YOUR action items for today. This is the same as last year and still so important. It's all about the goals, keeping track of what you are doing, and investing in yourself.
Action Items:
Set an income goal for 2021.

Even if it's half way through the year by the time you read this, just make a goal! And write it on paper.

If you are not already, start tracking your income and expenses.

You need to know where your money is coming and going!
Use a simple spreadsheet or purchase a financial tracking tool on RD2RD Marketplace*.

Invest in yourself- plan on having expenses in 2020.

Whether it's a course, coaching, or a resource… spend the money, make the money.
Thanks for taking the time to read this post and I really hope that you start dreaming big, making plans, and start taking action.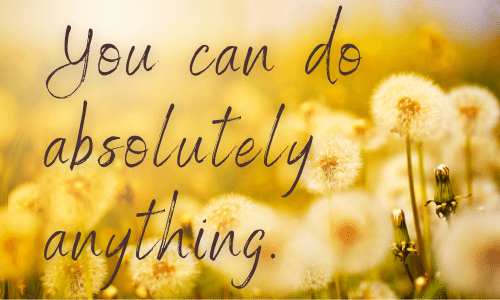 You've got this dietitian side hustler!!