6 Simple Steps to Start a Website [for Dietitians]
I've had many people ask me how I built my websites. Most dietitian side hustlers are just getting started… and they have NO idea how to manage the tech of starting a website. It is confusing, but it is totally possible! This article outlines how to start a website for dietitians.
I am going to preface this post by saying I'm not the expert.  My goal was simply to create a fast, user-friendly website that people can find online and I can eventually make income from.  What I am going to teach you is how I built my websites (Dietitian Side Hustle and The Geriatric Dietitian) and the strategy behind them.
If you want to look for different options for building a website, you can totally find them through Google. This article is simply the steps I took to build the website "home" you are currently in. No fluff. No confusion. Just a simple example of how this dietitian side hustler built her website. 🙂
NEW: If you are ready to build your blog, check out my new (FREE) course the Fast Track Blog Builder.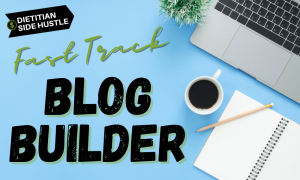 Getting Started:
When I dove head first into the blogging world, I quickly learned that Word Press (.org) is the way to go for making a website that's completely your own. A lot of people who built their websites in the "easier" or completely free platforms have ended up spending a lot of time and money trying to switch (once they realize the value of Word Press). If you want to eventually monetize your website, use Word Press (.org and NOT .com). 100%.
Making a website costs money upfront and there are recurring costs. But here's the deal, if you do it right and eventually make money thorough your website- it will eventually pay for itself. But the cost doesn't have to be a lot. I chose to build the most basic and lowest cost (but still quality) website I possibly could.
Because this topic is confusing, I will be using an analogy. Think of your website as a home. As we move through these steps, I hope this helps you wrap your mind around the tech a little easier. 🙂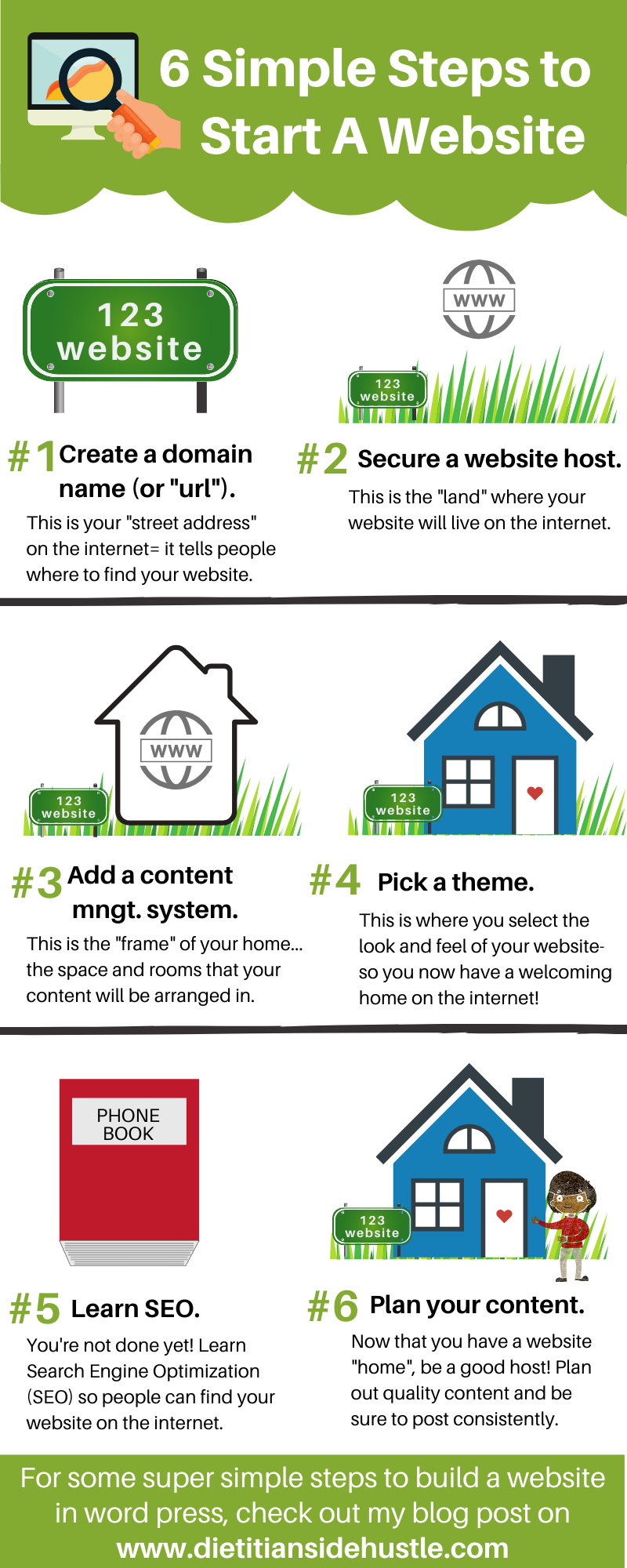 Step 1: Create a Domain Name or URL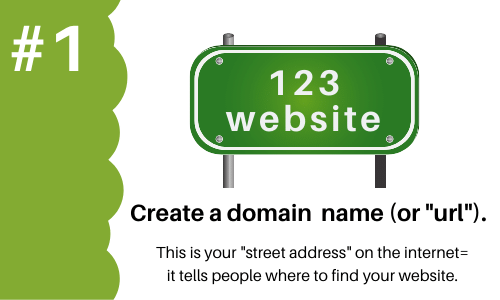 The first step is creating your domain name or "url".  For this website it is www.dietitiansidehustle.com. Think of this as your "street address" on the internet. It tells people where to find your website.
Before creating the domain name, be sure to do your research. Is that name already being used? Has it been trade marked? Is someone using that name on social media?
We want to make sure people don't get confused trying to find us. A similar name or the same name on another platform (like social media) can be super confusing.
Also be sure the name is simple and easy to spell. If the name is super long or spelled too "creatively", it increases the likelihood people will not be able to find you.
After you do your research, you need to buy the domain name. Yes, it costs money to have your own URL. It's not a lot. There are several places to purchase a domain name. I use Google Domains. It only costs $12 per year.
Search for your ideal domain name to see what is available for purchase. I HIGHLY recommend purchasing the ".com" version (it's just easier for people to remember).  If the domain costs a crazy amount of money, this means someone has bought that particular domain and wants you to buy it from them. You can either pay the one-time ransom (then Google will only charge your $12 annually) or find a new name. If this happens, I'm sorry. It stinks.


Step 2: Secure a Website Host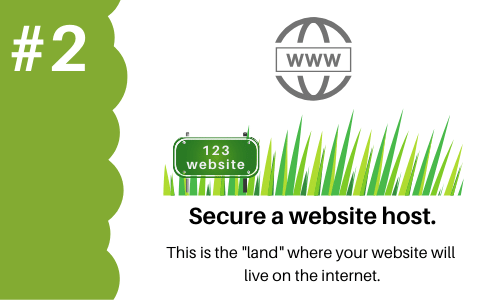 Now that you have a domain you need to secure a website host. This is the "land" where your home will live in the internet. There are many different hosting options. I chose SiteGround* for my websites.
Their customer service has been fabulous. I have contacted them several times in a panic thinking I broke my site… they fixed it like it was no big deal.
Another plus with Site Ground is that they provide an "SSL" (secure sockers layer).  This is the "s" you see after "http" in the URL… it means your website is secure. And if you want Google to find your website, you need to make sure you have an SSL.
When you go to SiteGround select "Get Started" under "Managed WordPress Hosting." From there you can pick from 3 different hosting packages. Low, middle, or high price. They offer you a discounted rate when signing up, you can even buy a whole years worth of hosting so you don't have to worry about recurring payments for a while.
I selected the "GrowBig" option which costs $5.95 per month to start. It provides unlimited websites (I knew I wanted two to start 2 websites), 20 GB of space, and ~25,ooo sessions per month. When my website grows, I can always upgrade!


Step 3: Add a Content Management System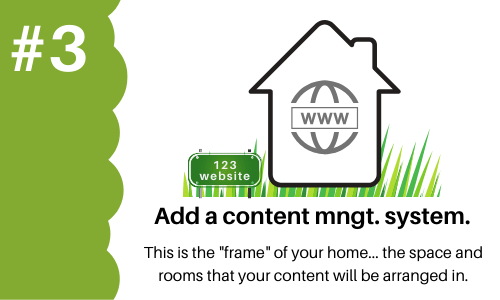 This is the "frame" of your home. The space and rooms that your content will be arranged and managed. In my opinion the only way to go is Word Press (.org) for this one.
The great news is that it is entirely FREE (hey, I'll take one thing for free!).
A technical definition per Wikipedia is "A content management systems (CMS) is a software application that can be used to manage the creation and modification of digital content."
That's confusing to a non-techy like me… so even if it's not the most accurate description… I think of CMS as the frame of my website home. 🙂


Step 4: Pick a Theme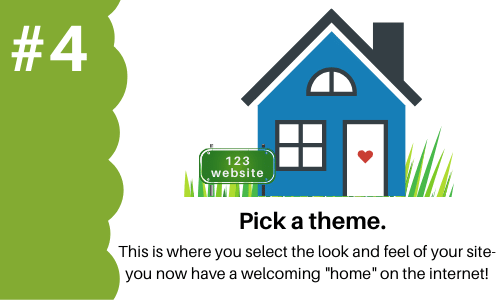 You are getting so close to be ready! Next you need to pick a theme. This is where you select the look and feel of your website. There are many themes to choose from.
Some are better for informational sites or food blogs. My biggest tip is don't get a "big" or "clunky" theme that slows down your site speed.
When someone wants to build a website on a budget– my recommended theme is Astra*. I started my websites with the free version, then upgraded to the paid version (totally worth it!). It is a "light weight" theme that ensures your website stays at top speed (this is a Google ranking factor) and it has a lot of options to make a visually appealing website.
I do use some free plug-ins on Word Press to make creating my posts and pages a little easier. I use Elementor which is a "drag & drop" page builder. It makes it soooo easy to make a pretty webpage. 🙂 They have a free and paid version. I use the free version.
Speaking of plug-ins, you should only use the amount you absolutely need. Plug-ins can slow down the speed of your site.
A Quick Note on Plug-ins
I use the following plug-ins:
Astra Pro– this is the plug-in I use for my theme
Classic Editor– I just prefer this editor over "Glutenberg" which confused me a lot (I'll be deleting this one soon)
Easy Table of Contents- I use this for my long posts on The Geriatric Dietitian to make them easier to navigate
Elementor– My simplified, make a pretty page builder
Grow by Mediavine– this is for adding social sharing to my posts
SG Optimizer- this is the plug in for my site host (SiteGround)
Yoast SEO– This is my SEO best friend- you NEED this on your sites!
A good theme, in combination with some good (and useful) plug-ins will help you create the look and feel of your "home" on the internet.
Step 5: Learn Search Engine Optimization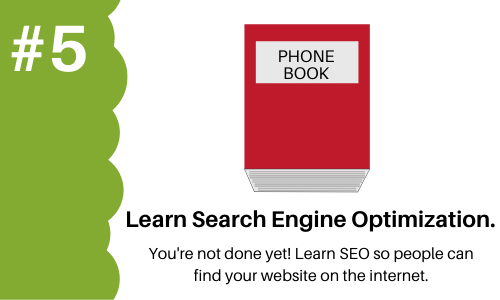 Congratulations! You now have a website "home." But wait… there's more! But, you are not done yet.
You need to learn SEO so people can actually find your website on the internet. It's like getting in the phone book (from waaayyyy back in the day). You want to make it easy for people to find you. There are a gazzilion websites out there- to stand out you must learn SEO.
What the heck is SEO?! Search Engine Optimization is a process and framework you use to create quality content to increase traffic to your site.
Is it easy? Yes, it totally can be. Is it confusing? Heck yes, especially to newbies. Can you figure it out? 1000% yes. You should, you can, I really hope you will.
You can learn about SEO online for free… but here's the thing- it is such a beast and there is so much information online you will spend hours and hours of time researching and getting lost in the weeds (or learning incorrect information- yikes!). And the actionable "how-to" items can be hard to figure out.
My Favorite Online Courses
Want to save the time, frustration, and headaches??? Take an online course from a dietitian! 😉
I have 4 courses I recommend, I have taken them all… well, one is my own, so I actually created it! 😉
First off, my Blogging Accelerator Program is a great place to start if you want to build a business based on blogging. You will learn how to get started, pick your niche, build your website, SEO, create content, make money online, and have continued support along your blog biz journey. Visit www.bloggingacceleratorprogram.com to learn more and get on the waitlist!
The Unconventional RD's SEO Made Simple Course* is an excellent place to learn SEO ninja skills! You will not only leave this course understanding SEO, you will actually have the skills to implement it. From a dietitian who speaks your language. Get on her waitlist today!
Chrissy Carole, blogging dietitian extraordinaire, has created an excellent course to help you create more content, optimized for SEO.
Holly Larson's course will help you to improve your writing skills AND it incorporates important SEO skills throughout! 
I am an affiliate for these courses because I truly believe in them. I wish EVERY dietitian would take these courses and create websites that take over the internet. This way anytime someone searches for nutrition content online, they find accurate, reliable, and safe information written by a dietitian.
And guys- bloggers can make lots of money online. I'd rather see the dietitians rolling in the dough the self-proclaimed fad diet guru. Amen?!
Step 6: Plan Your Content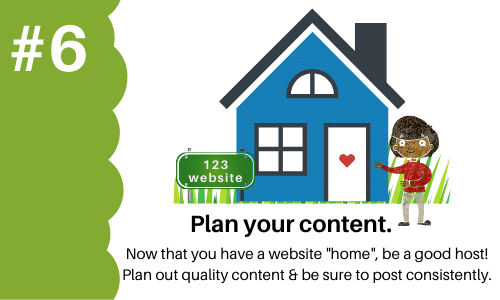 Now that you have your website "home" and people can actually find you… you need to be a good host! 🙂 Plan your content! It's easy to get super motivated, build a website, and forget about it. Don't do that.
You don't have to dedicate a ton of time, but if you want to make money through your website you need to make sure you are posting at least once per month. Or at least updating your old posts annually. Create good, quality content that helps your ideal customer.
If you are investing money into your website, make sure you invest the time to do it right. Plan out your content in advance- even if it's just a list of post ideas. Add them to your calendar so you will be reminded to post consistently.
With The Geriatric Dietitian, I am committed to posting 2-4 times per month. With this site, I am committed to posting at least once per month. It doesn't have to be complicated, but it should be consistent.
Conclusion
Wrapping it up. These are my "simple" steps, but obviously there is a lot more to know. For me, going to wpbeginnger.com and You Tube were excellent sources of help as I build my pages.
I have created a free course for you to build your very own blog in just over 5 hours. Check out the Fast Track Blog Builder course and take action today!!
If all of this is just too much, you can always pay someone to build a website for you. I recommend Whitney Bateson who is a fellow dietitian. She does website building, branding and design, she knows her SEO, and she has lots of examples of her work online!  Plus she is a dietitian, and I love supporting other dietitians!
OK! Here are the links I shared all in one place:
Best of luck and be sure to let me know how your websites turned out!