Dietitian Side Hustle Career Coaching
Are you ready to start your side hustle, but don't know where to start? We offer a variety of coaching options for your individual needs to help you start the side hustle of your dreams.
>>> Not ready to invest? Be sure to check out our amazing FREEBIES including a free mini-course & webinar! <<<
I help dietitians and RD2BEs get focused, crush their goals, and have the fulfilling career they've always wanted!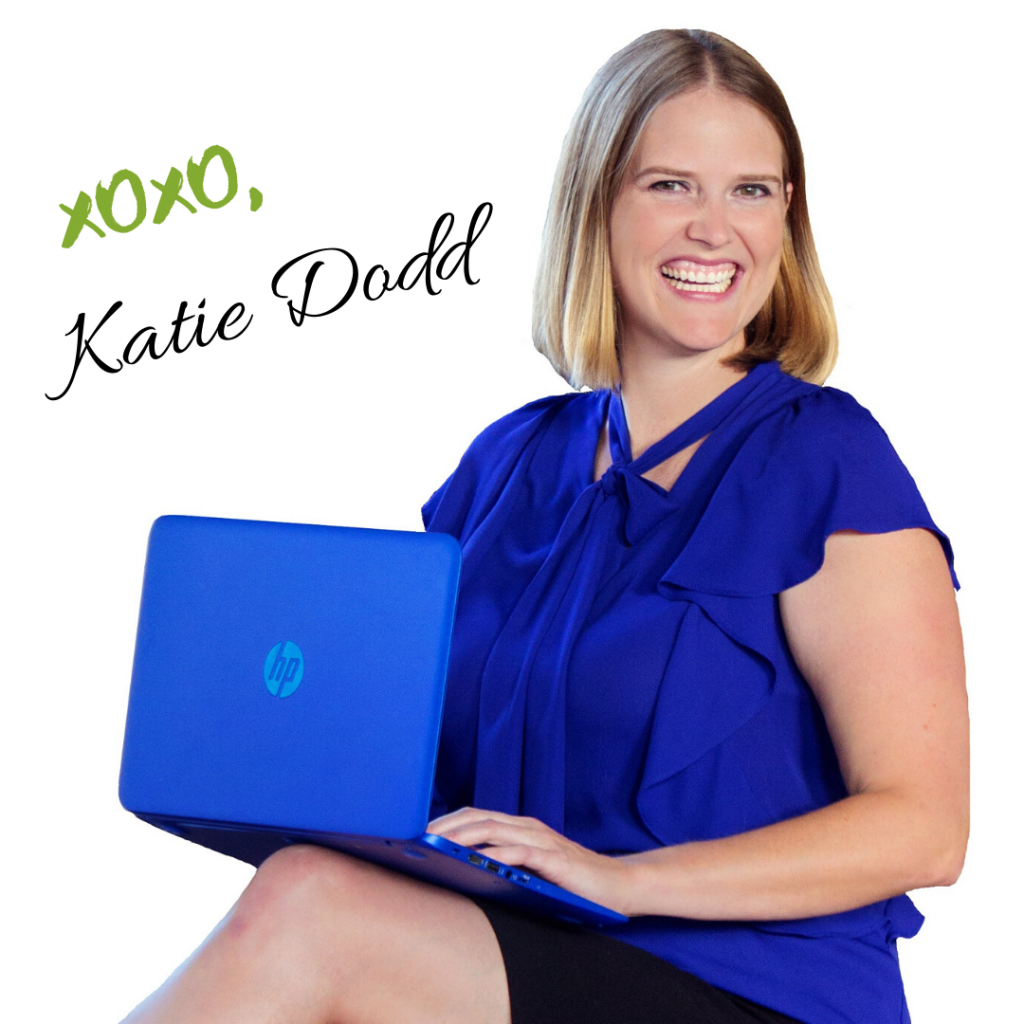 Getting Started

Goal Crushing

Content Creation

Career Development

Starting a Side Hustle

Work-Life Balance

Time Management

Freelance Writing

Blogging

Webinars

Speaking

Podcasting

Academy Leadership

Resume Building

Precepting Interns

Geriatrics

Social Media
Individual Coaching Options
One hour consultation: $500
3 Month Coaching Package: $5,000

This package includes:

(1) 60-minute in-depth initial session

(6) Biweekly 30-minute follow-up sessions 

LIFETIME access to the 

Blogging Accelerator Program

FREE access to the Beyond the 9 to 5 Course 

FREE Dietitian Coaching Workbook

Unlimited email support

This program is currently on hold.

Contact Katie to get started!
Blog Boss Mastermind

*Blogging Accelerator Program students have priority for enrollment (remaining spots open as available)

Enrollment is closed for our October 4th launch. Next enrollment will be January 2021.
I was lucky enough to have Katie as my preceptor during my dietetic internship where she opened me up to the idea of having a mentor. By the end of my rotation with her, I realized I wanted her to be mine. She is the most driven, enthusiastic dietitian I have ever met and continues to amaze me with how accomplished she is. She strives towards her goals every day, including her goals of helping others. Every goal I have ever created with Katie as my mentor has been accomplished, including landing my dream job at a VA!! I highly recommend working with Katie. You won't regret it!
Working with Katie has had a profoundly positive impact on my success as a registered dietitian-to-be. Katie and I worked together to establish and refine my professional goals and break down my big goals into small, actionable tasks. Katie has inspired, motivated, and encouraged me during every step that I have taken to become a stronger professional and student. I am so thankful to have Katie as a mentor and cannot overstate how valuable working with her is. If you are interested in taking your career to the next level, I would strongly encourage working with Katie.
"Beyond the 9 to 5" Coaching Course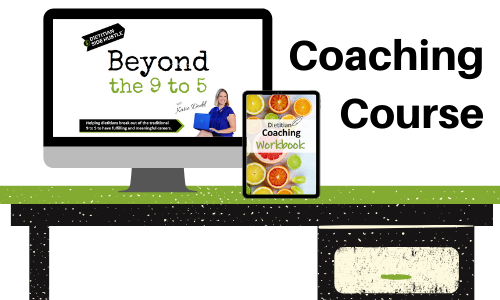 A coaching course designed to get you beyond the 9 to 5 and have the career you've always wanted.
YOU WANT MORE
It's 8pm and you're binging on Netflix while scrolling Facebook. You see yet another dietitian who has launched a successful side hustle.
You want so badly to get beyond the 9 to 5 and start a side hustle that you are passionate about (and makes you money!). But you don't even know where to start. The overwhelm is too much.
THE OVERWHELM IS REAL
You've tried to imagine what you can do to get started. You've downloaded freebies that haven't given you any help. You tried looking into coaches and programs that seem financially too far out of reach.
The truth? Information overwhelm is real and it is so hard to figure out where to start.
I CAN HELP!
Hi! I'm Katie Dodd, business coach and side hustler extraordinaire! For the past 12 years I have been setting and achieving audacious goals to live out my very best RD life.
And along the way, I've developed a system for becoming focused in achieving a fulfilling career, ensuring you the focus you've always wanted without the overwhelm.
GO BEYOND THE 9 to 5
Introducing the Beyond the 9 to 5 Course! This course features our Focused 2 Fulfilled (F2F) Method which will help launch you beyond your 9 to 5. 
You will become laser focused as you start the side hustle of your dreams, leaving the course with a specific action plan tailored for you and your dreams.
FOCUSED 2 FULFILLED
We'll start by digging deep into your why, find your strengths, and focus on a fulfilling life. Next, we'll identify your path, get focused, and you'll dream bigger than you've ever dared to dream before. Finally, we'll refine the skills you need to know launching into your side hustle.
This course features 11 videos (total time 2 hours 11 minutes) and a FREE Dietitian Coaching Workbook to guide you through The F2F Method.
Through this process you will discover how to craft an action plan for the 1st year of your side hustle so you can start making money and living the career you've always wanted without wasting countless hours drifting without a plan.
A STARTING POINT
From high priced coaching packages you're not ready for, to resources you'll buy and never use; you can easily spend thousands of dollars trying to figure out how to get beyond the 9 to 5.
That's when I decided to package my expertise into a program that anyone could follow at their own pace. I wanted to make it as accessible as possible. That's why you can get access to the Beyond the 9 to 5 Course for only one payment of $197.
 What you get:
-11 Video Coaching Course        $197   ($349.00 value)
-Dietitian Coaching Workbook    FREE  ($47.00 value)
-Fulfilling 5 Printable Journal      FREE  ($17.00 value)
Total Value: Over $400.00
Your Price: One payment of $197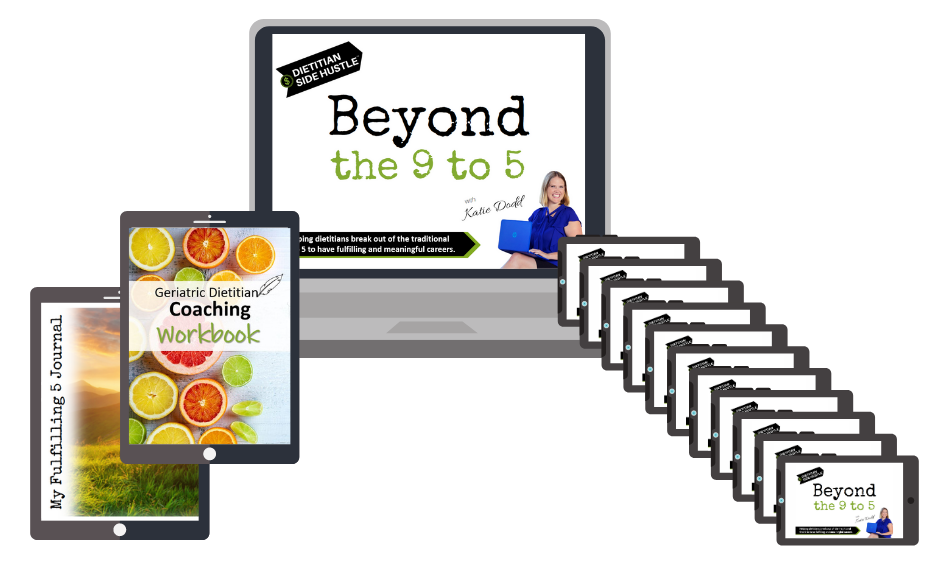 NO NEED TO FEAR
I know it can be scary to pull the trigger and invest in a course from a coach you don't know (yet). I truly want to help get you beyond the 9 to 5 without reservations. I want to empower you to start the side hustle of your dreams! And I believe in this system.
So, guys, I'm offering up a full 30-day money back guarantee if you are not completely satisfied with this course. No questions asked. No judgements made.
ON YOUR WAY
It's 5:15pm and you're driving home from your 9 to 5 job. You smile as you head home knowing you have an actionable plan to tackle. You know exactly where you are going with your career and are committed to making your dreams happen. You are focused and you are fulfilled.
Ready to get focused and go beyond the 9 to 5?
Frequently Asked Questions
What Our Students Have to Say
I really enjoyed this course! I loved starting with digging deeply into WHY I am on this journey. Learning more about my unique strengths was really helpful too, so that I know what to focus on using in my business. I also appreciate that she provided information for where to find more info depending on which direction you will go from here. This is a great stepping stone into your entrepreneurial journey!

This course forced me to think through my side hustle ideas in a logical manner - which is exactly what I needed! Katie walks you through every aspect related to starting a side job; even those things you probably didn't even KNOW you needed to think about from personal motivations to business skills. Katie's passion for helping dietitians shines through every single video; it is clear she truly cares that you succeed and her passion is contagious. Her enthusiasm will inspire you to dream big and her encouragement will help you set actionable goals to make that dream a reality!


Katie Dodd's Beyond the 9 to 5 course is an invaluable resource for dietitians who want to identify strengths, break down barriers and fulfill their dreams. This course helped me to see my goals and objectives clearly and be able to create a realistic plan of action to achieve them. The Fulfilling 5 helped me to check in with myself and keep me balanced and focused when feeling overwhelmed. After taking this course I learned how to find the resources I needed to be successful. Katie taught me not to fear my problems or barriers but instead to become obsessed with them. Katie teaches dietitians the things that isn't taught in your undergrad. Start your own business by following a dietitian who has done it well and been successful. Katie showed me how to find my worth and calculate my time. Katie makes me feel unique, empowered and motivated to achieve my goals. I highly recommend this course if you are someone who is ready to move beyond the 9 to 5 and find your true potential.

Blogging Accelerator Program
Are you ready to start making $$ through multiple income streams without seeing patients?!
An accelerated program designed to launch dietitians into the online space making money through multiple income streams without seeing patients. 
If you aren't ready to invest in our programs and services, we have several awesome freebies to choose from: