Note: Links with a (*) are affiliate links- when you purchase through these links, I receive a small commission.


Freelance writing is an excellent side hustle opportunity for dietitians. Think of anywhere you see words… someone was likely paid to create those words. And so many companies are looking for dietitians to create content for them!
Potential Writing Opportunities:
Blog articles

Magazine articles

Continuing Education articles

Books & Cookbooks

Courses & Curriculums

Newsletters & Emails

Product Reviews

Etc.
How to Find a Writing Gig:
Upwork

– create an account and start looking for gigs.

LinkedIn

– update your profile and start networking.

Websites

– look for "write for us" sections on business websites.

Networking

– sometimes it's who you know, put out your feelers!
How Much Should I Charge?
This one is difficult to answer because it depends on YOU… how long have you been a dietitian, what is your specialty, what experience do you bring, what is your writing skill, etc. In general, there are three ways you can charge.
Per Word:

Industry standard is 10 cents per word to 1 dollar per word or more.

Per Hour:

Some contractors will pay you by the hour, the rate may vary.

Per Project:

Calculate the time a project will take and multiply by your hourly rate.
Whatever you decide to charge, be confident in your rates. Negotiate if needed. And be prepared to walk away if a contract is not mutually beneficial.
Learn More:


>>>BACK TO TOP<<<


Blogging is my very favorite side hustle! It is side hustle that allows you build a large, consistent audience and make income through multiple streams of income. Especially passive income… where you do not have to trade time for money.
How Do You Make Money Blogging?
In it's most basic terms, you make money blogging by driving traffic to your blog then having something to sell to the people who come.
Making Money= Something to sell + Someone to sell it to
For example, my blog The Geriatric Dietitian, gets over 100,000 visits every month. I make money through having ads on my website, selling e-Cookbooks, digital goods, and a course. These are all forms of passive income. I made these products once and they sell on auto pilot because I have a consistent stream of traffic. I currently make over $2,500 in passive income monthly through the blog.
Potential Streams of Income for a Blog
Ad revenue

E-books

Digital handouts

Courses

Affiliate Income

Sponsored content

Freelance work

Etc.
If you want to build a blog business, there is a right and a wrong way to create and build your blog. You absolutely must learn the right strategy and be willing to do the work. Blogging is a long term game, but the passive income a blog can generate makes it 100% worth the wait!
Learn More:
>>>
BACK TO TOP
<<<


Many dietitians want to see patients for their side hustle. There are many things to consider before figuring out your model for patient care. But there are also so many opportunities!
Things to Consider for Your Patient Care Side Hustle:
Do you want to see patients:

In-person or

Online (telehealth)

Do you want to provide care:




One-on-one or

Group programs

Do you want to do:




Health coaching or

Medical Nutrition Therapy

Do you want to bill:

Insurance or

Out of Pocket (cash based practice)

Do you want to provide care for:

Do you want to offer:

Single sessions or

Packages
These are just some of the things you'll need to think about. A few things you will 100% need are insurance, a way to schedule and bill your patients, a plan for finding patients, etc.
Now, I do NOT see patients in my side hustle. Patient care has not been something I've wanted to add, but it certainly can complement other side hustles such as blogging and freelance writing. And there are a ton of other amazing dietitians out there who can teach you all about patient care.
My biggest tip for patient care as a side hustle: commit to becoming a marketing and sales pro. The hard reality of patient care is that you will need to work hard to find clients (or work smarter, it's not always about making things hard!). You can be the BEST dietitian in the world but if you don't know how to get clients, you won't be able to help anyone. 
Here are Some Dietitians to Learn More From:
Join these amazing Facebook Groups:
>>>BACK TO TOP<<<


If you love to teach, give presentations, and speak, then there are so many side hustle opportunities for you. I am lumping a lot of areas together here- from public speaking to webinars to teaching. There are so many different possibilities.
Potential Speaking Ideas:
In-Person Speaking Engagements

Conferences & meetings for local, state, or national nutrition organizations
Conferences & meetings for local, state, or national healthcare organizations
At a local library, school, Parks & Recreation department, etc.
For businesses as part of corporate wellness programs

Online Speaking Engagements

Webinars for:

CPE Companies (ex. Dietitian Central)

Brands or Businesses

Corporate Wellness

Local, state, or national nutrition organizations

Local, state, or national healthcare organizations

Self-hosted (you do your own thing!)

Online symposiums (ex. RD Entrepreneur Symposium)
Online conferences (ex. 2020 & 2021 FNCE)
Master Classes or Challenges (self-hosted)

Teaching Opportunities

For a local community college
For an online school or program
Create your own online program!
Finding Speaking Opportunities:
To find the best speaking opportunities for you, I recommend making a list of all the organizations, meetings, and events that you could possibly partner with based on your niche. When considering places you can present, be sure to think outside of the box. Your list is going to be unique to your skill set and area of expertise. Below is an example of a list I would create as a geriatric dietitian.
SAMPLE GERIATRIC NUTRITION: LIST OF POTENTIAL PARTNERS &/OR EVENTS
Food and Nutrition Conference and Expo (FNCE)

State Academy of Nutrition and Dietetics conferences

Other healthcare conferences (ex. MD, RN, SW, PT, OT, PharmD, PsyD, RDH, Dentists, etc.)

Meals on Wheels of America or other community nutrition organizations

Dietitian Central

Becky Dorner and Associates

Caregiving associations

Long Term Care organizations

Home Care organizations

American Geriatric Society

AARP, Silver Sneakers

Dementia or Alzheimer's Associations

Etc.
I could go on, but I'm sure you get the idea. Also, don't just assume an organization doesn't have a budget for speakers. For example, many libraries have a budget dedicated to bringing in people to give presentations and teach. Plenty of people are looking for dietitians to speak. 
Securing a Speaking Gig
Once you complete your list, start visiting websites! Look for a list of events, Calls for Speakers, Speaking Guidelines, Work with Us sections, etc. You can even shoot an email to see if there are any opportunities for speaking. Most organizations will require you to submit a proposal to speak. This may include a title, objectives, outline, summary, etc. 
If you are selected, be sure to negotiate the terms and sign a mutually agreed upon contract prior to starting any prep work for your presentation. If you are speaking at an in-person event be sure to clarify who will be covering the cost of travel. Do not assume anything and get everything in writing (your contract).
Then, based on the guidelines you are given, create your presentation, practice, and go do your thing! 
Learn More:
>>>BACK TO TOP<<<


Online courses is a great way to provide one-to-many care. It can also be a form of passive income where you create the course once and continue to make sales. There are many ways to use online courses for your side hustle. Below are some things to consider and resources to learn even more!
Your FIRST Step Before Starting an Online Couse:
Ask your audience what they ACTUALLY WANT. Don't fall in the trap of thinking you just know what your audience wants. The risk is building out a wonderful program that no one will actually buy.
The best way to do this is to reach out to people in your target audience and hop on a call with them. Or you can email them. You can also do polls on social media.
Before I started my Blogging Accelerator Program, I got on the phone with 12 different dietitians who would be a good fit for what I was trying to build. Yep- 12. Here are a few of the questions I asked to find out a little bit more about what my audience was looking for:
Do you currently have/thinking about a side hustle? What is it?

How long have you been working on/thinking about your side hustle?

What would you say has been the most frustrating part about working on your side hustle?

Etc. (I asked 9 questions total)
Honestly, this technique will work good for anything you are trying to build… including patient care packages, digital goods, etc.
Considerations for Your Online Course:
Will you build it:

Before it starts  (entire program is ready before anyone buys)

As the program goes (pre-sale, then build it out week by week)

Will you include:

Live group Zoom calls

Community aspect (ex. Facebook group or

Voxer community)

Will your course enrollment have:

Official launch dates

Specific windows of enrollment

Open enrollment (evergreen)

Will your students have:

Time-limited access to course content

Lifetime access to course content
These are just a few of the logistics to consider before starting your online course. My Dietitian Online Mini-Course includes a Courses Checklist with even more things to consider.
Platforms to Host an Online Course:
Thinkific

Teachable

Kajabi

Click Funnels

You Tube

Google Drive

Etc.
There are many platforms available for you to host a course. They vary in price and functionality. I currently use Thinkific for my programs. I started with their free platform and shifted to the paid version over time.
Hosting a course doesn't have to be expensive or complicated if you are just getting started. In fact, my Dietitian Online Mini-Course is actually all stored on Google Drive. I made a one-page PDF with links to the videos and handouts. This mini-course is free if you want to snag a copy to see what it looks like.
Learn More:
>>>BACK TO TOP<<<


Dietitians love to create content. In fact, I'm sure many of you already have some amazing handouts just sitting in your computer, collecting digital dust. But what if you could put that handout in the world?! You can help people and make some extra cash!
Ideas for Digital Products to Sell:
Client handouts

Guides

Workbooks

Forms

Protocols

Templates

E-Books

E-Cookbooks

Bundles
You can sell digital products directly to consumers or you can sell them to other dietitians and healthcare professionals to use in their practice. The sky is the limit for what you can create and sell. 
An Audience to Sell To
My biggest recommendation for selling digital products is to make sure you have an audience to sell to. I sell e-Cookbooks and handouts through my website The Geriatric Dietitian. By implementing the right blogging strategy, I am able to bring in over 100,000 people to my website every month.
These people have problems that my digital products can help solve! My digital products are an excellent form of passive income. I have created them once and they sell on autopilot because I have an audience.
Where is your audience?
Blog

Social Media

Podcast

Partnerships

RD2RD Marketplace

Etc.
If you don't have an audience (or even if you do!), a great place to sell digital goods is RD2RD Marketplace*.  
RD2RD is an amazing platform for digital products sold to dietitians by dietitians. You can  build your own store and start selling your own digital nutrition resources TODAY!!! This is an easy way to get started in your side hustle- but remember you do need to do some marketing on your end to ensure your products are sold. 
Where to Sell Digital Products (Hosting)
RD2RD Marketplace

E-Junkie

Gum Road

Send Owl

Etc.
You can host (sell) your digital products on a variety of platforms. I use RD2RD for most of my digital products. I use e-Junkie for my e-Cookbooks. The digital product hosting platforms vary in price and functionality.
Learn More:
>>>BACK TO TOP<<<


Other Side Hustle Ideas for Dietitians
I've chosen a few different side hustles to highlight on this page, but know that the sky is the limit! Seriously. If you can dream it, you can do it.
FULL LIST of Ideas for Your Dietitian Side Hustle:
Freelance writing

blogs, magazines, copy writing, editing, etc.

Webinars

live, on-demand, self-hosted, associations, businesses

Live speaking engagements

conferences, schools, libraries, businesses

One-on-one patient care

private practice, with a provider or facility, telehealth

Affiliate marketing

Sell products/services from other companies

Blogging

advertising, sponsored posts, membership sites, etc.

Teaching

for colleges, universities, online programs, etc.

Cooking classes

for health fairs, farmers markets, grocery stores, etc.

Podcasting

sponsors, lead magnet for service/content you offer

Working with brands

sponsored posts, collaboration, projects, etc.

Influencer

YouTuber, spokesperson,  social media

Coaching

nutrition coaching, dietitian coaching

Grocery store tours

for grocery stores, businesses, programs 

Culinary work

recipe development, food photography, food blogging

Selling physical goods (you created!)

foods, supplements, books, swag (clothes, etc)

Selling digital goods (you created!)

handouts, courses, tool kits, e-books

Direct sales

fitness, wellness, supplements, anything

Any-freaking-thing

Seriously!! I've heard of dietitians doing birthday parties (fun cooking demos for kids), teaching mermaid swimming classes (hey, nutrition and fitness go hand-in-hand), selling inspirational swag (I love my "you are enough" shirt), etc. If it's your passion, go for it. There is so much space for creativity and innovation in the world we live. You have ideas that are uniquely YOU, ideas the world needs to hear about and be changed by. Don't worry about perfect, start your journey. 
Learn More:
>>>BACK TO TOP<<<


Passive Income for Dietitians
I couldn't talk about side hustle ideas without talking about passive income. You guys, I LOVE PASSIVE INCOME. See how I used all caps there?! It's because I mean it. Passive income allows us to make money without exclusively using our time. What does that even mean? Let me explain.
Most of learned in school how to make income traditionally. You trade your time for money. I work 40 hours and I get paid for 40 hours. I take a contract gig, I get paid to fulfill that contract. Our time= money.
But, here's the thing. We only have so much time in the day. Can you make more money by working more? Sure! Of course you can. But you also want to enjoy this amazing life you have. And you don't want to get burnt out.
Passive income means you create something once and continue to sell it on autopilot. I like to refer to this as money I make in my sleep. I can't tell you how much I love waking up to see I've got money in my bank account for sales I made while I was fast asleep.
I want to be super clear that passive income isn't 100% work free. It's not crazy easy or else everyone would be doing it, right?! But if you learn the right strategies, then you can do it! 
There are a few key considerations for passive income:
You need to create products people actually want

You must have a consistent stream of people (an audience!) to purchase your products

And, you need to have systems in place to allow sales to happen
Passive Income Examples
Let me share a few examples of my passive income streams. Keep in mind I use my blog as a way to build traffic and have a consistent stream of people to sell to. Over 100,000 people are visiting my website The Geriatric Dietitian each month. If you want to learn more about building a blog that brings in consistent income so you can make multiple streams of income (including passive income!), check out my FREE Blogging as a Business webinar.
Selling E-Books on My Blog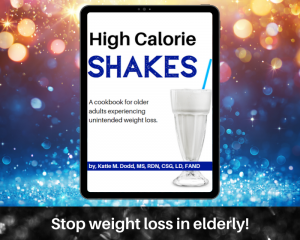 When I started The Geriatric Dietitian, people kept asking me for recipes to help their loved ones gain weight (or stop losing weight). So I made my first product. An e-Cookbook called High Calorie SHAKES.
I created the e-Cookbook in February 2020. I decided to host it on a website called e-Junkie for $4 per month. They provide a sales page, a secure checkout process, and email the e-Cookbook when purchased. I launched my e-Cookbook in March 2020. I advertise it on my website.
And in the past 14 months I've sold 138 e-Cookbooks and have made $2,618 on this one product. And I will continue to make sales for as long as I have it available. 100% passive. It is the best!
Ad Income Through My Blog
I started my website The Geriatric Dietitian with the intention of getting ads on my website. After 17 months I was able to apply for an amazing high end ad network called Mediavine. You need 50,000 monthly sessions to apply for this ad network. And they are great to work with.
Having ads on my website allows me to make passive income. I am consistently making $2,000 per month with ads on the blog. This stream of income is even higher than my e-book sales, but they all add up!
In case you are wondering about my journey to getting ads on the blog, here are the cliff-notes:
I officially launched my website, The Geriatric Dietitian, on my birthday June 29, 2019.

I applied for Mediavine on November 10, 2020 when I was at 46,308 sessions (I emailed them & they encouraged me to apply).

I officially hit 50,000 sessions on November 19, 2020.

I was accepted for Mediavine on November 20, 2020… 10 days after I applied and 16 months 23 days since I started my website.

At the time of acceptance:

I had 56 blog articles on my website.

17 of my articles ranked on the first page of Google.

6 of my articles were in the #1 spot on Google.

Since 2021 I have been consistently having ~100,000 sessions per month.
Blogging to Create Passive Income for Dietitians
Those were just 2 examples of my passive streams of income. I also sell 2 other e-books, a variety of digital products, sell a course, and make income through affiliate sales. 
This is why I love blogging as a side hustle. It allows you to bring in multiple streams of passive income. If you use the right strategy and build out your business overtime you will continue to add more and more ways to make money with less and less of your actual time. 
If you want to learn more about my Blogging Accelerator Program, where I help launch dietitians into the online space making money through multiple income streams without seeing patients, check out this page: Blogging as a Business.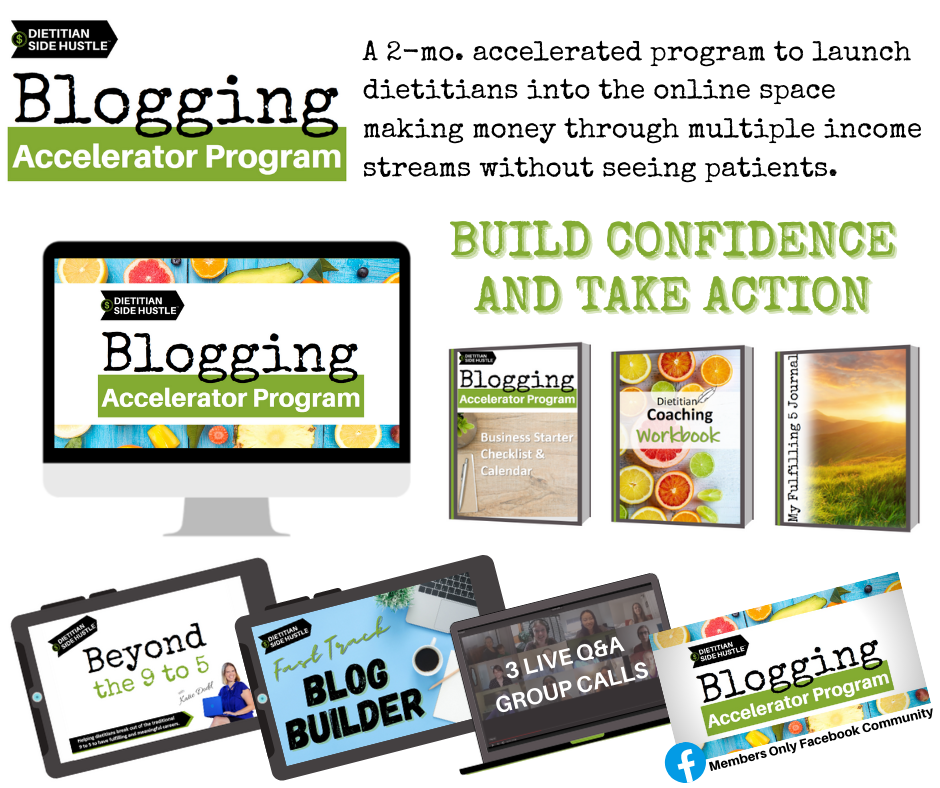 Learn More:
>>>BACK TO TOP<<<