The doors for the 9th cohort of the Blogging Accelerator Program are open from August 15-29th!
Book a call to lock in your spot (and ask me about the special bonus I'm offering!).
Apply for a free 20-minute strategy call with Katie to see if the Blogging Accelerator Program is the the right fit for you.
This program is designed to launch dietitians into the online space making money through multiple income streams without seeing patients. The program starts with an 8-week course that will take you 5-7 hours per week. You will gain confidence and most importantly take action to making your side hustle dreams come true!!
Ready to chat with Katie?!
Kind Words From Happy Clients
Katie's Blogging Accelerator Program is incredible. She is so helpful and her resources are amazing. The accountability and feedback from Katie has really helped me create my website and start working towards becoming a blogger. As a newbie to blogging it is all overwhelming but Katie has broken down each of the tasks and has incredible checklists for all the steps to keep it simple. If you are thinking on it I highly recommend signing up with Katie as she is incredibly passionate about helping dietitians become successful and it truly shows in her work.
These past 8 weeks have been a game changer for me. I learned to slow down and understand each piece of the puzzle before moving on to the next. I still have so much to learn, but I'm excited about the road ahead. Thanks, Katie Piercy Dodd, for being a great teacher and mentor.
Katie has been a wealth of information and inspiration throughout the Blogging Accelerator course. I don't think I'd have progressed this far without her coaching and support. I was surprised by just how much information you learn between the course modules, weekly coaching calls, and Facebook group support. It definitely helps to have someone coaching you through the process. I would highly recommend her Blogging Accelerator course if you want to understand the nitty-gritty but important details of SEO and running a successful blog.
My name is Laura Krauza. I am a full time clinical Dietitian. I have worked as a dietitian for 27 years. I decided recently I would like to learn a new skill. I saw Katie's Blogging Accelerated Program on face book and completed a 3 day challenge and set up a call with Katie. When I spoke with Katie I immediately knew I wanted to work with her! She was so knowledgeable and yet very approachable. She has helped me step by step through this course and learning SEO which was another language for me! Katie has helped remove the intimidation I was having. I highly recommend the Blogging Accelerated Course to anyone that is interested in becoming a serious blogger. Thank you Katie!!!

The Blogging Accelerator program was a great source of support, information and inspiration! ...Katie was always attentive and helpful. I recommend this course if you want to see results.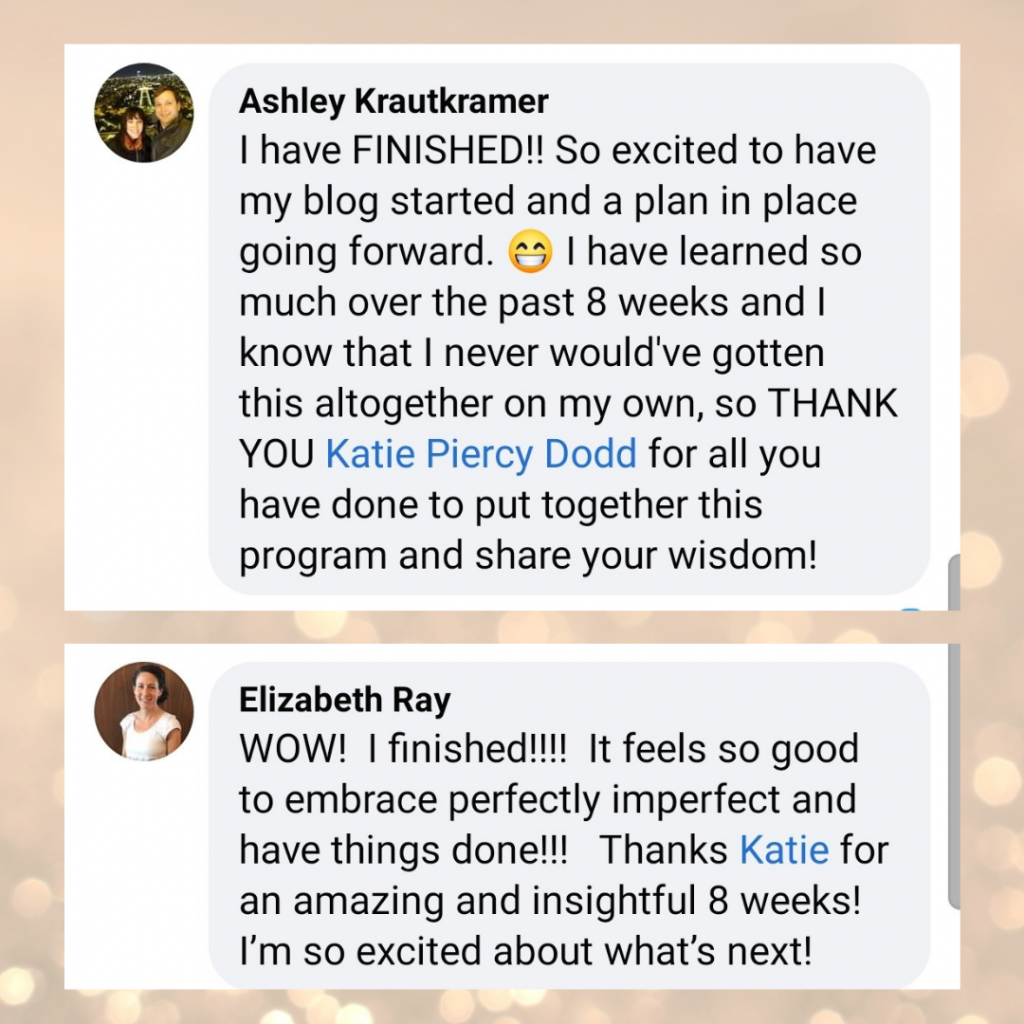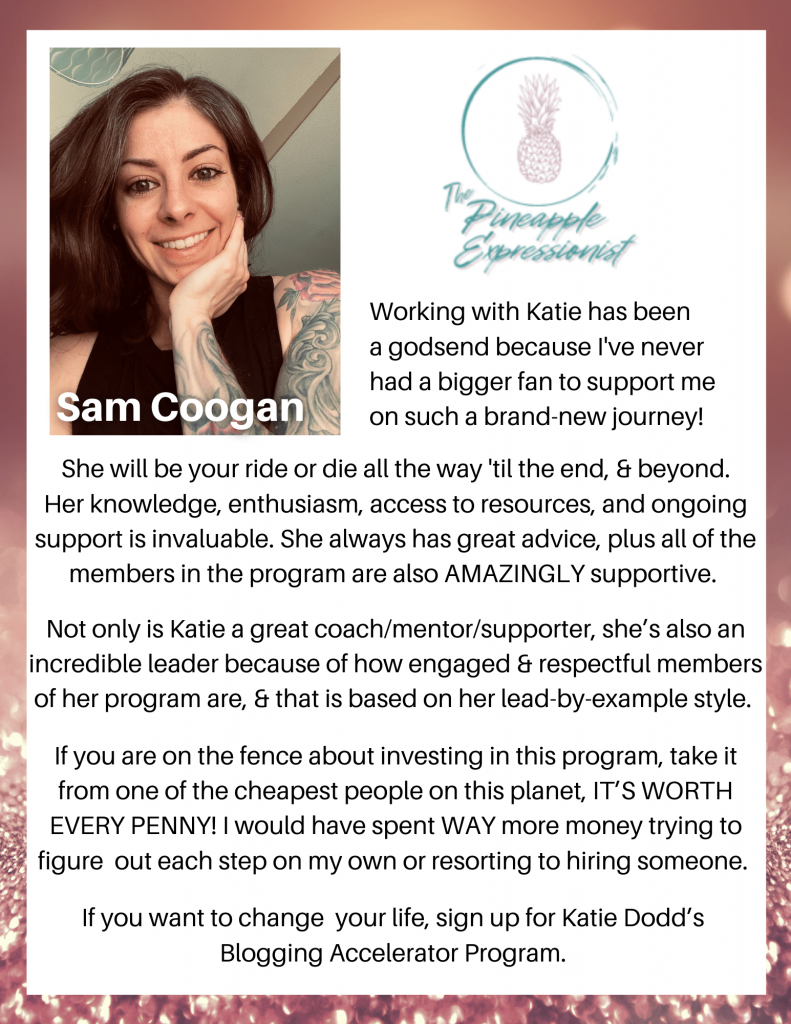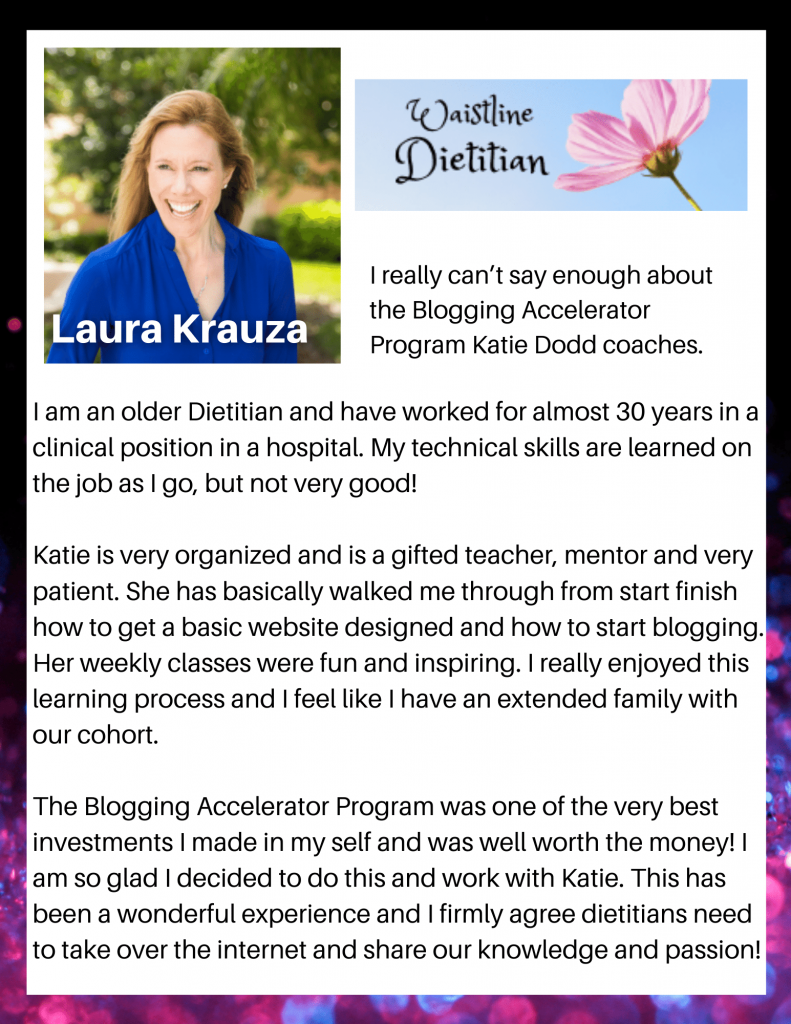 I have been practicing in the renal field for almost 19 years now. Over the past few years I have been yearning for something more beyond the option of moving up into management (which would not feed my soul). I needed to grow, break out of my comfort zone and challenge myself to do something I feel passionate about while at the same time being able to make more of an impact. The Blogging Accelerator program has helped me tremendously to give me the encouragement that I needed to get started, to keep me on track (it's so easy to say it's too hard or I don't have time!), and offer all the support and resources you need to help you succeed. If you're considering starting a blog and creating a website for your side hustle I highly recommend taking the Blogging Accelerator Program!
I have been wanting to start my own side hustle for a long time, but never got around to it. It was always something I put off and never made a priority. When Katie reached out to me about the opportunity to work with her to kick start my side-gig, it was a no-brainer! Katie has been my mentor throughout my dietetic internship and grad school, so continuing on with her guidance was such an easy decision. Katie has made this process as easy as possible and her enthusiasm makes everything so enjoyable! I was shocked to see how many weeks worth of courses we had to complete and without her guidance, I would still be on week one. Life gets really busy so having accountability for what you want to achieve is essential. Now, my website is live and I'm working on my first blog post! If you're anything like me - wanting that side-gig, but constantly putting it off - I would highly recommend working with Katie. She will make sure you get the job done!
The Blogging Accelerator Program with Katie has opened my eyes to a whole new way of highlighting my expertise in dietetics to a broader audience. I have also learned various ways to earn passive income that I had never considered before. Katie has the ability to clearly explain each step of the program in a way that is easy to understand and she has made herself very available to my group all along the way. I am looking forward to completing my website and publishing my very first blog in the near future and I cannot thank Katie enough!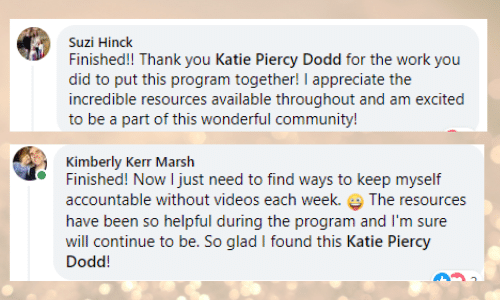 Are You Ready to be a Blogger (and Make Money Doing it?!)
Where are you on the blogging accelerator pyramid… are you a Blogger-2-Be (wanting to become a blogger), are you a Blogger (you HAVE a blog!), a Blog Employee (you're making money but still working FOR your blog), or a Blog Boss (you're making money through multiple income streams and your blog is working for YOU)!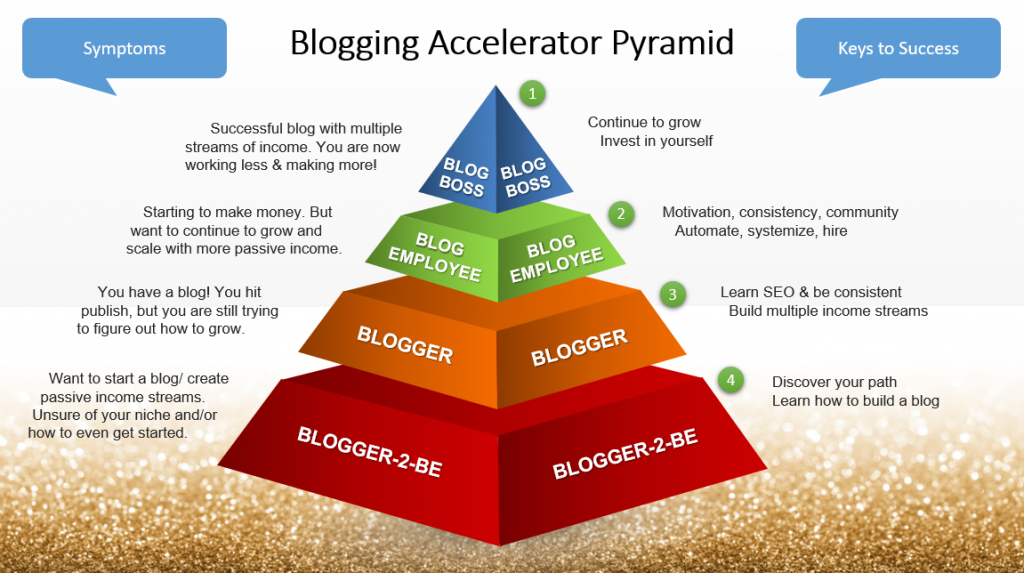 I have created a system to help you move up the blogging accelerator pyramid! The Blog Monetizer Method is designed to help you get on the fast track to making money through your blog ("fast track" in terms of blogging… this is a LONG TERM game, but those who stick with it will have awesome success!).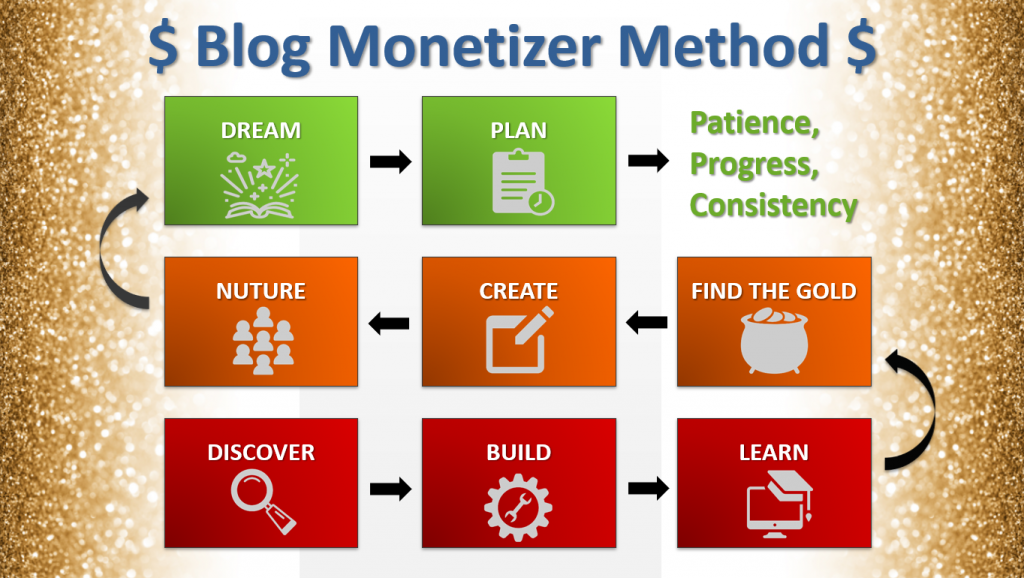 What is the Blogging Accelerator Program?!
The Blogging Accelerator Program STARTS with a course but is so much more. When you join, you have lifetime access and are part of an amazing community of bloggers dedicated to supporting each other on the blog journey. 
Here is what you will accomplish each week in the course:
Week 1:

DISCOVER

Identify your niche and blog name.

Week 2:

BUILD

Build the bones of your website and hit publish!

Week 3:

LEARN

Begin learning SEO and polishing your website pages.

Week 4:

FIND THE GOLD

Discover what blog topics will bring in the traffic.

Week 5:

CREATE

Write your first blog post.

Week 6:

NUTURE

Create additional audiences online to nurture.

Week 7:

DREAM

Uncover potential income streams you want to build.

Week 8:

PLAN

Create a plan for blog posting, nurturing your audience, & creation of income streams.
Here is what you will have long after the course is over:
Supportive members-only community

Blog Accountability Group

Monthly Q&A Calls

Monthly Marketing, Sales, and Mindset Calls

Monthly Guided Blog Starter Calls
Can't wait to see you in the program!!