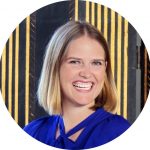 Hi! My name is Katie Dodd. I have a full time job & have built a side hustle around blogging (without seeing patients!). I can help you start or perfect the side hustle of your dreams! 
Follow the next steps to get started!
1st: Watch our FREE 24/7 Webinar
Be sure to sign-up to watch our FREE 24/7 webinar, Blogging as a Business.
Learn how to blog as a business; bringing in multiple streams of income, on your own time & from the comfort of your own home, without seeing patients. Blogging has been the core of our side hustle! I would love to show you how blogging can work for you too! 
Join over 1,000 other dietitians and RD2BEs who are passionate about starting a side hustle in our Dietitian Side Hustle Facebook Community. Be sure to check out our Units tab to get the most out of the community!
Learn more about how we can work together on my Coaching Page. Whether you are looking for individual coaching, an independent-study coaching course, or if you are ready to all all in and become a blogger like me! 
I'm so glad you are here! 
"Everything is possible, even the impossible."

~Mary Poppins