Affiliate Income for Dietitians
Affiliate income (made through affiliate marketing) is a phenomenal way for the dietitian side hustler to make a little money on the side. And it's super fun. Please note that links with a (*) are my affiliate links & I make a commission off purchases made through these links.
What is Affiliate Income?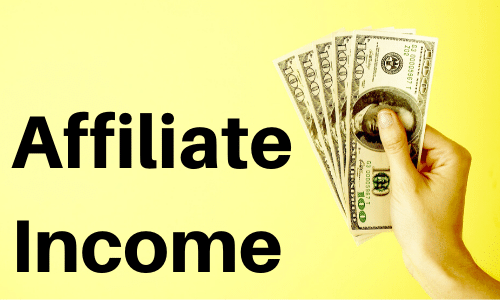 Per Neil Patel, an online marketing guru, affiliate marketing is defined as the process of earning a commission by promoting other peoples', or other companies' products.
You find a product you like, promote it to others, and earn a piece of the profit for each sale that you make. Affiliate income is the money that you make through affiliate marketing.
This article is really meant to give you some ideas and open your eyes to what affiliate income is. Just know that I'm not the expert, and these are my experiences.
Why Affiliate Marketing?
Why should we look into making money through affiliate marketing? I think the first thing to remember is that we can't do everything ourselves. We all have really amazing skill sets, but we can't be everything to everyone. But we can connect our ideal client to resources that we truly believe in and know will help them.
I heard somewhere that selling is helping. In the past I have had some kind of negative mindset issues around selling.  But here's the thing, if you truly believe in a product or service and you know it can help people, you gotta spread the word.
The financial benefit is two-fold. Getting paid to promote a product means you will treat it like your own (and really put in the effort to market the product) and it helps to support your side hustle so you can continue to serve others.  The financial piece will keep you have both the motivation and time to promote it. And guys, your time is valuable.
Affiliate income is another tool in your tool bucket as a dietitian side hustler – another way that you provide value and make income.
My Example of Affiliate Marketing
My primary experience with affiliate marketing is with The Unconventional RD Business Boot Camp Courses*. I 1000% believe that every dietitian should take these courses! They should take theses courses, make a website, and take over the online space!
You guys, bloggers make a lot of money. A lot! And the reality is that a lot of bloggers are making money in the nutrition space promoting information that is not backed in science and can even be harmful. Wouldn't it be wonderful if every time someone typed a nutrition-related question into Google, it pulled up a website by a dietitian? Then, the consumer is getting factual information and the dietitian is making money. Double win!
I can talk about this ALL DAY long. It is an area I am super passionate about (hey, it's why I made this website). But let me back up for a minute.
The Unconventional RD Business Boot Camp Courses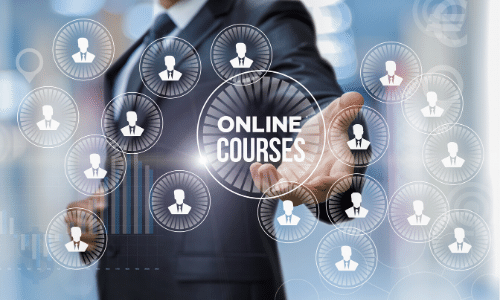 For those of you not familiar with The Unconventional RD Business Boot Camp Courses*, they're ran by an awesome dietitian named Erica. She has 3 courses in her boot camp series:
All three of these courses tie together, but can be taken individually.
I have taken all 3 courses myself and I was just mind blown. This is all information I never learned in school. And it's all stuff I happen to be really into and am (hopefully!) pretty good at. If I knew about this online world years ago, I could have been making such an impact and have made a lot of money in the process.
I really believe in The Unconventional RD Business Boot Camp Courses* and I am an affiliate for them. I have a whole different audience that I can promote these courses to and help spread the word. And being an affiliate makes it worth my time. I have a full-time job guys. I'm a mom, wife, and person. And I need to be making the most out of my time.
It's OK to Make More Money
Some of you need to hear this: It's OK to make money selling other people's products. Some have experience with sleazy people selling things. But, if you do affiliate marketing from the heart… meaning you believe in the product, you know it adds value and benefit to your ideal client, and it's something you've actually used or done… then it's OK.
Selling is helping! You are spreading the word. You are helping other people get value from these resources that you know will help them. For example, I know that taking The Unconventional RD Business Boot Camp Courses* can change your life, help you make more impact, reach more people, and make more money as a dietitian. What's not OK is me keeping that all to myself. 😉
If you do have any mindset issues around selling, I just encourage you to evaluate those beliefs and  work on shifting them. It's OK to make money guys. It's absolutely OK to make more money as a dietitian.
How I Learned About Affiliate Income
So where did I learn about affiliate income? You likely guessed it, The Unconventional RDs Make Money Blogging Course*.
I purchased my first course SEO Made Simple Course* in June 2019. It was really hard for me to take the leap and purchase the course. I am cheap. The price tag of $397 for hard for me to swallow. At the time, I had never taken an online course and I felt like it was expensive.
But now that I'm on the other side, I can say it was worth every penny. And when I really looked at how much money I invested in school, it's like a drop of water in the well.
After taking this course, my "cheap" self bought the other 2 courses. I saw the value and understood what I was paying for – I was learning from someone who has done what I want to do; learning from their successes and also learning from their failures. I was saving time and learning how to start now.
It Worked!
I took the Make Money Blogging Course* in September 2019.  This is where I learned about affiliate marketing – one of the six ways dietitians can make money blogging. Was it worth it?
Well on January 2nd, 2020, so less than 4 months after purchasing this course, I completely made my money back. I made my money back using the skills that I learned through this course.
Keep in mind, I'm still a "small fry" with The Geriatric Dietitian and the Dietitian Side Hustle (my two little side gigs). In January, when I made back the money I had spent on the Make Money Blogging Course*, I only had 1,100 followers on Instagram, 300 followers on Facebook, and only had 300 sessions per month on my websites.
I'm just getting started. The fact that I was able to make my money back in less than 4 months was phenomenal.
The Make Money Blogging Course
The next live round of the Make Money Blogging Course* will start around May 2020. This year the price is going up by $200 after it goes live. If you're reading this after May 2020, it's OK, you can still purchase this course. It's available on-demand at any time and it's worth every penny. And you will have lifetime access to the course!
This article is about affiliate income. But in the Make Money Blogging Course*you will learn about so much more.
You will learn about making money online through:
Ad revenue
Affiliate income
Sponsored posts
Selling digital goods
Course creation
Membership websites
You'll even how to become an affiliate yourself and help support other dietitians and peers who promote your amazing products and services online!
My Affiliate Programs
I am an affiliate for 7 different programs and services. Also, I host an affiliate program through The Geriatric Dietitian.
I became an affiliate by signing up online for the different programs listed below. With each, I got a special link to share with my audience. The links have some coding in the back end so the companies know when a purchase has been made through my link. When someone does purchase through that link, I get a commission! The amount varies by individual program. It can be a set dollar amount or a percentage (usually 1-50%) of the purchase.
Here are my current affiliate links:
RD2RD Marketplace is a fabulous site for purchasing digital resources including client education materials.
Dietitian HQ has an amazing RD Entrepreneur Symposium.
Site Ground is the hosting company that I host my websites on and I do have to tell you that I really like this company. Their customer service is phenomenal. I am not techy at all and I've had several freak out moments where I thought I broke the internet… they fixed it each time like it was no big deal.
Key Search is the tool I do my keyword research for my SEO (which is how I get my websites found online). I also have a discount code I can share for my affiliates!
Astra is a Word Press theme I use and really like (it's fast, its light weight!).
And finally I am an affiliate for Smart Success Health Care which offers live events and online challenges.
These are all programs and services I 100% believe in. And if people choose to go make a purchase through my affiliate links, I can earn a commission off the purchases, which is pretty cool. I promote these posts through my website (within individual blog posts and in my "Resources" section), social media, and emails.
My Affiliate Program:
High Calorie SHAKES e-Cookbook
I mentioned I started my own affiliate program! Earlier this year I created a e-Cookbook through The Geriatric Dietitian. I made an affiliate program so other dietitians and healthcare professionals can incorporate my product as part of their own affiliate marketing program. Contact me if you are interested in my affiliate program!
As I grow, I'll likely find other affiliates and will add them as well.
How to Find Affiliates
I've mentioned several affiliates throughout this blog. But there are so many different affiliate programs out there!
The affiliates you use will depend on what you do as a dietitian and what your clients need. Think of things that will complement or help the clients you serve. Then make a list of your favorite programs and resources.  Go to their websites to see if they have an affiliate program. You may be surprised to find out they do. A tip is to look in the menu options at the bottom of a website – you will usually find affiliate links there.
A big affiliate I haven't mentioned yet is Amazon. Amazon does have an affiliate program. It is pretty cool too because whenever someone purchases through your Amazon affiliate link you get a commission on anything they put in their cart. So if they buy something you recommend and say, a vacuum, then you get a percentage of total purchase (including the vacuum)! The percentage Amazon offers is super low… I think only a few percent, but it's still a good program.
Remember to Disclose
Before I wrap up this article, I want to remind you the importance of disclosure in affiliate marketing. If you are making money through an affiliate link, you are obligated to disclose this. Every email and post I have with my affiliate links lets people know that I'm sharing affiliate links and will get a commission off purchases made through these links.
If you are uncomfortable disclosing that you are an affiliate, then you should not be one. Affiliate marketing isn't for everyone. We want to make sure we are following our professional code of ethics in disclosure of areas where we are making a financial profit.
Summary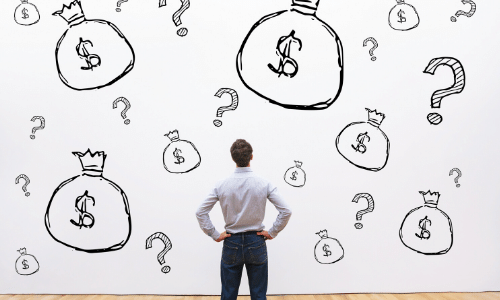 Affiliate marketing is all about collaboration. It's about how we can work together to support each other. It's about helping to spread the word and letting people know about these amazing products and services that are out there. And it's a really cool dietitian side hustle.
Before you leave, I want you to consider doing a few action items:
Sit down and list out all the companies, or services, you use, and that you truly believe in.
Find out if those programs have affiliates
Sign up and get started.
Thank you for your support my friends. I hope that you learned something new today and are considering diving into the world of affiliate marketing. Best of luck!